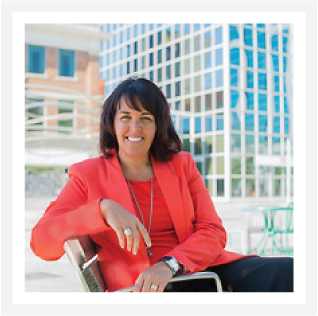 I have many years of experience and a whole lot of education but the essence of all of my work can be distilled into that one word: connection. When I connect with others I am able bring all of who I am and what I have learned and intersect with their world. It is at this intersection that the magic happens; where complex workplace interrelationship challenges can be solved, where stress gets de-stressed, emotional intelligence soars, and where leaders can lead with imagination and courage.
I love to learn! I am a certified professional coach through the College of Executive Coaching and a certified coach with the International Coach Federation. 
I have earned 3 Master Degrees, one in Counselling/Psychology, a second in Adult Education where I completed a thesis on team leadership and a Master of Science in Health and Nutrition Education where I completed a thesis on brain health and how this intersects with leadership and over stress. Every single ounce of my formal education has played a role in my my holistic approach to coaching, training and consulting and afforded me a unique perspective and a comprehensive toolbox.
The world and the workplace continue to change rapidly and sometimes that can be a lot to keep up with. Sabotaging beliefs and behaviours can get in the way, unhealthy workplaces can cause stress, and our own brain health can prevent us from doing our genius work and living the life we desire. My areas of expertise include emotional intelligence competencies, stress management in the workplace, and the impact of brain health on leadership and workplace competencies.
I am passionate about people. I stand up and for my clients and cheer for them (sometimes quite loudly and with abandon) and I cherish their definition of what a good work and personal life is. I am deeply curious about human kind, will never stop learning and believe that compassion is our highest calling.
DESIGNATIONS & CERTIFICATIONS
M.A. Counselling/Psychology
M.A. Adult Education (Leadership)
M.S. Health and Nutrition Education
RNCP Registered Nutritional Consulting Practitioner
Certified Hypnotherapist
AWARDS
Queen Elizabeth II Jubilee Award for Volunteerism
2016 YWCA Women of Distinction Nominee for Innovation and Entrepreneurship